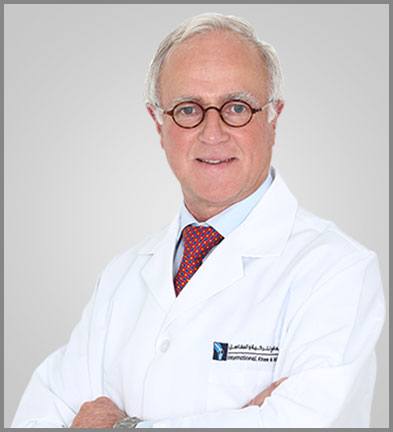 Dr. Willem Jacob Willems
Consultant Orthopaedic Surgeon
Former Chief of Orthopaedics Onze Lieve Vrouwe Gasthuis, Amsterdam, Netherlands
Orthopaedic Surgeon Shoulder and Elbow unit, De Lairesse Klinick, Amsterdam
Areas of Expertise: Shoulder instability, rotator cuff injuries, frozen shoulder, osteoarthritis of the shoulder and elbow, total shoulder replacement, elbow surgery
Years in Practice: 29 years
Experienced in arthroscopic and open shoulder surgery
Special interest in:
The development of newer techniques in the arthroscopic repair of shoulder instability and cuff pathology
Revision shoulder prosthesis surgery
Education & Training:
Medicine – Free University Amsterdam, The Netherlands
Residency – Pathology, Amsterdam
Residency in General Surgery – Gynaecology and Obstetrics, Lukas Hospital, Apeldoorn, the Netherlands
Course on Tropical Medicine – Tropical Institute, Amsterdam
Residency in General Surgery – Joh.de Deo Hospital, Haarlem, The Netherlands
Residency in Orthopaedic Surgery – University of Leiden, The Netherlands
Key Positions:
Medical Officer in Charge – Mwambani District Hospital, Chunya District, Tanzania
Private practice – Medical Centre Alkmaar, Amsterdam
Chief of the Orthopaedic Department – het Onze Lieve Vrouwe Gasthuis, Amsterdam
Orthopaedic surgeon – Shoulder and Elbow unit, De Lairesse Kliniek, Amsterdam
Authored around 80 abstracts/scientific articles and book chapters
Facts about Dr. Willems:
Founded the Dutch Arthroscopy Association (DAA)
Founded the Foundation of Medical Arthroscopy and Endoscopy
Founded the Dutch Shoulder and Elbow Society
General Secretary Organising Committee, World Congress Societe Internationale d'Orthopedie et Traumatologie, (SICOT), Amsterdam
Chairman of the Organising Committee of the SECEC/ESSSE Congress, The Hague, Netherlands
Chairman Education Committee of the SECEC/ESSSE
General Secretary of the SECEC/ESSSE
President of the SECEC/ESSSE (European Society for Surgery of the Shoulder and Elbow)
Member of many other global associations
Dr Jaap Willems graduated form medical school in Amsterdam, the Netherlands.
Prior to specialising he spent 4 years in East Africa, working in a missionary hospital in a remote area in Tanzania.
After returning to the Netherlands he specialised in orthopaedic surgery at the University Medical Centre in Leiden, The Netherlands.
He started practice in a large hospital in the western part of the Netherlands in 1985, performing general orthopaedics.
In 1998 he was requested to chair an orthopaedic department in a large teaching hospital in Amsterdam.
In this hospital he also was responsible for the resident's program.
He further specialised in surgery of the shoulder and elbow.
He founded both the Dutch Arthroscopy Society as well as the Dutch Shoulder and Elbow Society .
He initiated also research on pathology of the shoulder, both arthroscopy and arthroplasty.
In 1996 he became member of the Executive Board of the European Society for Surgery of the Shoulder and Elbow (ESSSE/SECEC), first as general secretary and from 2008 till 2010 he acted as president of this Society.
He published more than 60 articles on shoulder and elbow and is frequently asked as speaker for international shoulder congresses.
He was appointed honorary member of the Korean Shoulder and Elbow Society as well the Indian Arthroscopy Society.
He practises in Abu Dhabi since 2007 in cooperation with Dr Charles Brown.