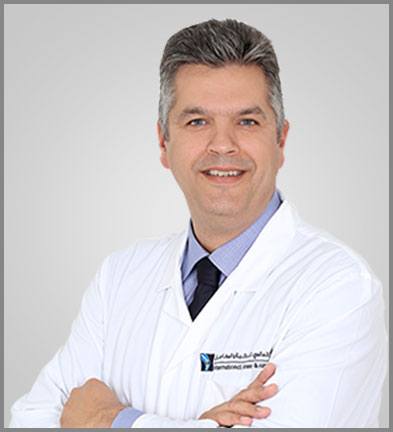 Dr. Ronald J. van Heerwaarden
Consultant Orthopaedic Surgeon
Dr. Ronald van Heerwaarden, MD, PhD is an internationally recognized leader in limb deformity correction and joint preservation surgery of the knee. He has joined the IKJC to treat patients with knee osteoarthritis and limb deformities gained after birth, in growth, after previous failed surgery or after trauma.
Areas of Expertise: Knee osteoarthritis, meniscus injuries, patellar instability, limb deformity correction, knee osteotomies, total knee arthroplasty.
Years in Practice: 14 years
Dr. van Heerwaarden has helped develop numerous surgical techniques, surgical instruments and medical devices which are used in the everyday practice of knee surgeons and limb reconstruction experts around the world to treat patients with limb deformities and knee osteoarthritis. He has authored over 100 scientific presentations, scientific meeting abstracts, peer-reviewed research papers, book chapters, surgical technique papers, videos and DVD's, and given over 250 lectures and instructional courses on the topics of posttraumatic deformities and osteoarthritis, limb deformity analysis and planning of correction, basic and complex osteotomy techniques, revision for failed knee surgery techniques, new knee joint preservation treatments, bone healing of osteotomies and the biomechanics of new osteotomy fixation techniques.
He is world renowned as a lecturer, educator and innovator in the field of osteotomies and limb deformity correction. He has hosted surgeons from all over the world, who have come to his practice in the Netherlands to observe and learn the latest surgical techniques. He has given lectures, instructional courses and organized workshops, seminars, symposia and surgical skills courses all over the world.
Education & Training:
Medicine – Free University Amsterdam, The Netherlands
Residency – Sports Medicine, Arnhem, The Netherlands
Residency in General Surgery Alkmaar, the Netherlands
Residency in Orthopaedic Surgery – University of Amsterdam, The
Netherlands
PhD-thesis "Effects of Pretension in ACL Reconstruction – University of Nijmegen, The Netherlands
Limb Deformity Course, Baltimore, USA
Seminar on Limb Reconstruction, Sheffield, England
AO Trauma Basic, Advanced and Masters Courses, Davos, Switzerland
Key Positions:
Board Member Netherlands Orthopaedics ,Traumatology and Sports Medicine Association
Orthopaedic surgeon – Sportsmedicine and Knee Reconstruction Unit, Sint Maartenskliniek, The Netherlands
Orthopaedic surgeon and director of Limb Deformity Reconstruction Units Maartensklinieken, The Netherlands
Medical director Maartenskliniek Woerden, The Netherlands
Book editor / author of "Sportstraumatology case reports (in Dutch)", "Osteotomies for Posttraumatic Deformities", "Manual of Osteotomies around the knee", and "Osteotomies around the knee (in German)".
Member AO Joint Preservation Expert Group (formerly known as Knee Expert Group)
Consultant, International Knee and Joint Centre, Abu Dhabi, UAE
Professional Societies:
Member European Society of Sports Traumatology Knee Surgery and Arthroscopy
Member European Knee Associates
Honorary Member American Orthopaedic Society for Sports Medicine
Member Netherlands Orthopaedic Association (NOV)
Member Netherlands Arthroscopy Association (NVA)
Member Netherlands Orthopaedic, Traumatology and Sports Medicine Association (NOTS)
Awards and Honors:
Best medical research project graduate students Free
University Amsterdam, Project: ACL anatomy and function.
Innovation Award, ESSKA. Project: Distal tuberosity osteotomy in open
wedge high tibial osteotomy can prevent patella infera: a new technique.
Research and Articles:
Expert opinion
Biomechanics Osteotomies
Bone Healing After Osteotomies
Planning of Limb Correction
Surgical Techniques
Rehabilitation After Osteotomies