A word from our Physiotherapy Manager
Hamzeh Hussein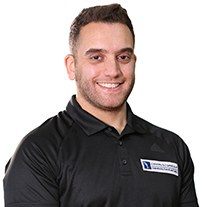 "Once the human body is injured and weakened, exercise and reconditioning are essential to return it to its original state. Even with corrective surgery, the only way to restore optimal function is with fitness based exercise. Losses in strength, balance and endurance are often the hardest obstacles for the active population to overcome following injury or surgery. The designing of the rehabilitation department at International Knee & Joint Centre was based on the vision of our former physiotherapy director Mr. David Baston combined with my decade of experience treating and training athletes and active individuals." — Hamzeh Hussein
Our Physiotherapy Department
The physiotherapy department at International Knee & Joint Centre is a state of the art rehabilitation and conditioning facility designed specifically with the active person and athlete in mind. We understand that to return active people to active lifestyles after an injury takes work.
The rehabilitation department at International Knee & Joint Centre is a physiotherapy center that at first glance, looks like a fitness center. Along with all of the usual physical therapy tools used within the industry, we have incorporated a full line of Cybex® strength training equipment as well as Precor® elliptical trainers, Stairmasters® and treadmills. The selection of this equipment means that at International Knee & Joint Centre, patients can be incorporated into modified fitness and conditioning programs along with their standard physiotherapy care allowing them to return to their favorite activities more quickly and at the highest possible level.
However, having the tools means nothing without qualified people to use them. Each of our physiotherapists at International Knee & Joint Centre are American Board Certified Sports Specialists. This means that they qualify among the top 1% for treating sports and orthopedic injuries in the United States. All physiotherapists are further certified as Strengthening and Conditioning Specialists by the American National Strengthening and Conditioning Association giving them a greater understanding of human physiology and the response of the human body to strengthening and conditioning. This is particularly important when rehabilitating the active individual.
Our department works on an American model with an open floor plan and direct supervision for all rehabilitation and fitness related activities. This also allow us to extend treatment sessions to an hour or more in the cases where it is indicated. The department was further designed with full locker rooms that include private shower rooms and changing areas for full privacy. The treatment area has the ability to separate into male and female sections or be opened up to allow for full access to all equipment at a single time.
This design and staffing set up allows us to deliver the most scientific, efficient treatment possible to our post-surgical and non-surgical patients.