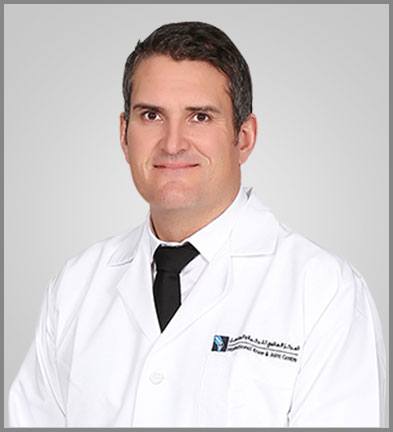 Dr. Alan Getgood
Specialist Orthopaedic Surgeon
Dr. Alan Getgood is an orthopaedic surgeon and Orthopaedic Sports Medicine Fellowship Director at the Fowler Kennedy Sport Medicine Clinic, and Associate Professor in the Division of Orthopaedic Surgery, University of Western Ontario, London, Canada. He completed his primary medical degree at the University of Edinburgh followed by orthopaedic residency and a research Doctorate (MD) at the University of Cambridge. His fellowship training included time in London (Ontario), Banff (Alberta) and Coventry (UK).
Dr. Getgood's clinical practice focuses on complex soft tissue reconstruction of the knee underpinned by a translational research program comprising of knee biomechanics and clinical outcome studies. His particular expertise lies within joint preservation surgery of the knee including ligament reconstruction, re-alignment osteotomy, meniscus transplantation and cartilage repair.
He has been successful in securing over eight million dollars in research funding and has authored over 100 peer-reviewed articles and numerous book chapters. Dr. Getgood was awarded the Albert Trillat Young Investigator Award in 2017 and Jan Gillquist award from ISAKOS and the 2019 O'Donoghue Award from AOSSM for his work on the Stability Study, a randomized clinical trial focusing on the utilization of lateral extra-articular tenodesis augmentation of ACL reconstruction.
Dr Getgood is on the Editorial Board for Knee Surgery Sports Traumatology Arthroscopy, the Social Media Editorial Board member for the American Journal of Sports Medicine, is a member of the Knee committee of ISAKOS and sits on the Education committee of AOSSM. He is also a founding member of the International Meniscus Reconstruction Forum (IMReF) and the Metrics of Osteochondral Allograft (MOCA) group.
Special Interest: